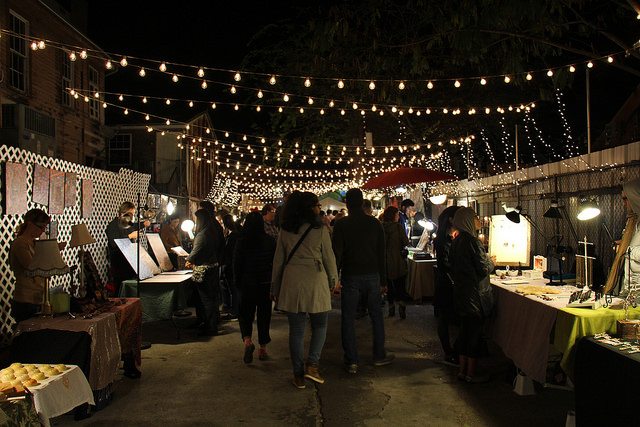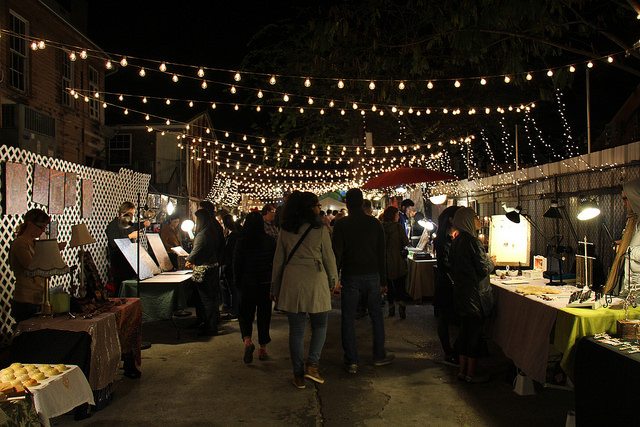 Frenchmen Art Market photo by Connie Ma
Check out the city's robust music culture — there's no better place for live music than the Marigny Triangle. Situated between Esplanade Avenue and Elysian Fields, this wedge-shaped neighborhood is bisected by Frenchmen Street, a pedestrian-friendly strip of music clubs, bars, restaurants, and an art market, some of which don't get going until after 10 p.m. At that point, brass bands, pedestrians and food trucks combine to create a giant block party. Dance on the street corner or venture into one of these excellent music venues and restaurants.
Blue Nile (532 Frenchmen St.)
You may have spotted a neon crescent moon sign of this stalwart music club hanging above the sidewalk. Blue Nile hosts a wide range of musical genres ranging from funk to brass bands. Cover price varies depending on the act, and a word to the wise: the club's second-floor balcony is the best place to overlook the wild street party that is Frenchmen Street.
Here, you'll find casual New Orleans fare like po-boys and jambalaya. The no-cover eclectic live music seven days a week is another draw.
Dat Dog (601 Frenchmen St.)
Dat Dog is a colorful, affordable option if you end up partying on Frenchmen. It's open late (till 3 a.m. on Fridays and Saturdays, and till midnight the rest of the week), and has a kid menu and vegetarian options. But, basically, it's tots, fries and dogs made with many different kinds of meat and loaded with sauces, condiments, veggies, and other goodness. Create your own or choose from a large menu of creatively named specials. There are more than 30 toppings to choose from. Though Dat Dog has two more locations, both Uptown, this one has an undisputed perk, a big balcony for all your viewing and partying pleasure.
d.b.a. (618 Frenchmen St.)
Since this live music venue opened its doors in 2000, d.b.a. has hosted hundreds of live acts. The bar features a broad selection of beer and spirits, and the music plays nightly. Tin Men and John Boutte perform there regularly.
This corner tattoo shop is the premier place to get inked in New Orleans. Its roster of talent includes heavy hitters, and the shop takes walk-ins for the ultimate souvenir — but if you're not ready to commit to the artwork on your skin, you can hang the tattoo artists' work on your walls when you visit the adjacent art gallery. There, tattooers who also paint on canvas sell their work.
Small and quaint, Frenchmen All Day is a cafe with indoor seating, as well as sidewalk cafe seating, a full bar, coffee, and brunch fare. The menu has breakfast quiches, Cuban sandwiches, NOLA staples like crawfish etouffee and red beans and rice, and salads. Open till midnight on Fridays and Saturdays.
The casual, live music venue at the end of Frenchmen offers an elevated Cajun/Creole menu, hand-crafted cocktails, a good wine list, and local draft beer plus, of course, live music.
This nightly art market is held in a quirky, light-strung lot, lined with vendors selling everything from handmade soap and incense to original art and clothing. It's a good place to shop, chat and hang out when the hustle and bustle of Frenchmen get too overwhelming. Bring your drink and settle into a cozy nook, where you can chat and people-watch until you catch your breath.
Snug Harbor is a sit-down ticketed music venue that is home to local and touring heavyweights of traditional and modern jazz (such as a weekly show by the Jason Marsalis Quartet). For over 30 years, Snug Harbor has provided the best in live jazz and great regional cuisine. Snug Harbor is located in three rooms of a renovated 1800s storefront — a dining room, a bar, and a music room.
A music club that triples as a restaurant and bar. It's three-level, with multiple stages where you can find drag, burlesque, and live music of many genres. The menu is primarily New Orleans classics, a house burger, and sandwich platters.
Petite, sweaty, noisy, and fun, this music club features up to three bands nightly. It draws an eclectic crowd — you'll see everyone from college students to septuagenarian tourists out there dancing. The venue can get crowded, so if you need to get some air, step out and take a breather at a nearby art market.
Three Muses is one of the best dinner-and-a-show venues in the city, and there's live music every night. It can get crowded, so you want to make a table reservation (good for 90 minutes, after which you can go to the bar). Some of the best musicians have played there, and the excellent food menu has a lot of vegetarian options.