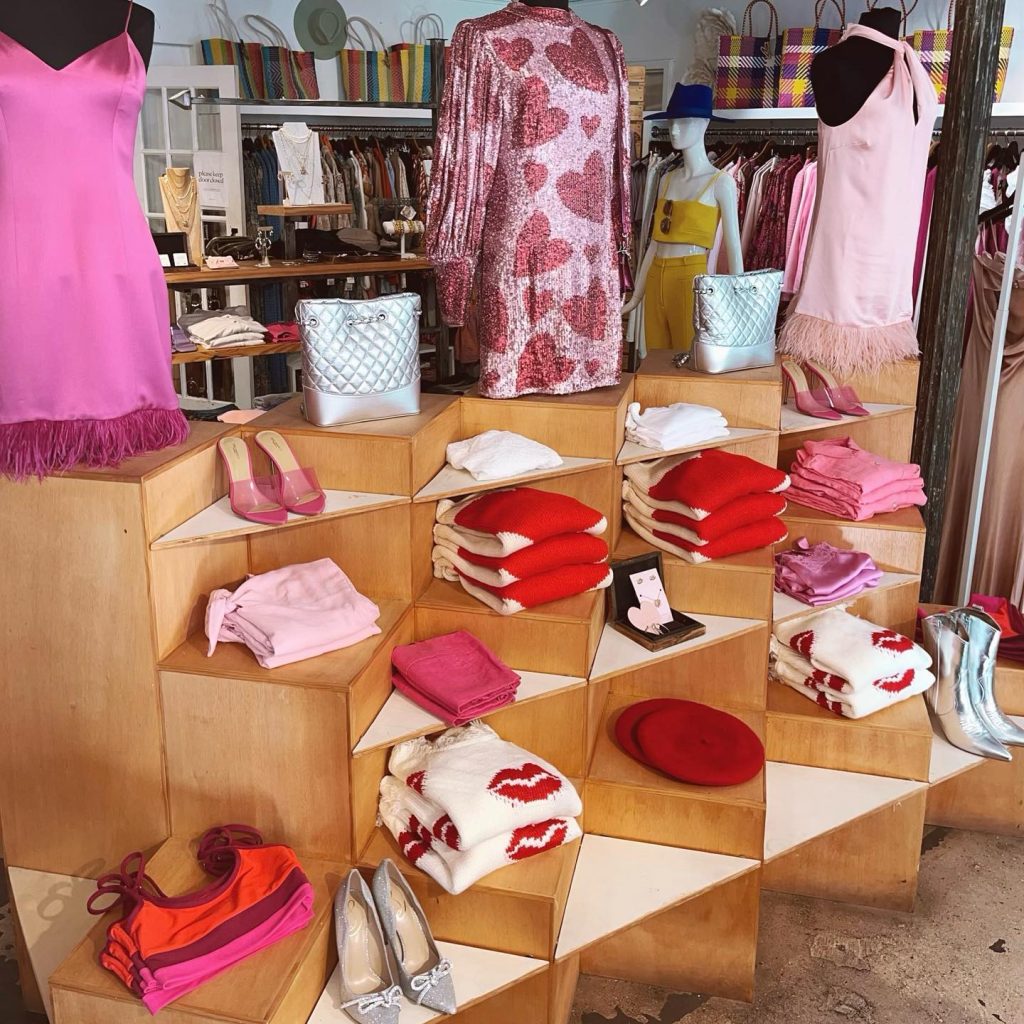 Photo courtesy of Hemline on Facebook
Shopping in New Orleans gives visitors another way to experience the city's vibrancy. Clothing in the French Quarter runs the gamut of styles and this list of some of the area's best women's clothing shops reflects that. Whether you're looking for vintage or contemporary, formal or casual, there's something for everyone in the French Quarter.
713 Royal Street
Dirty Coast offers casual New Orleans-themed clothing and gifts for women and men. Their French Quarter location opened in 2016 "at the corner of Pirates Alley and Touchdown Jesus" (their description). Since 2002, the company has printed more than 250 local designs for t-shirts and posters that proclaim their love for New Orleans.
Co-founder and designer Blake Haney was in Baton Rouge after Hurricane Katrina and created the company's first design, a bumper sticker that said "Be a New Orleanian, Wherever You Are" and stuck 5,000 of them all over the city as soon as he could move back. Write-ups in the Times-Picayune and The New York Times followed. The company now has devotees around the globe — locals and visitors  — who want to celebrate how much they love New Orleans.
216 Decatur Street
A colorful boutique offering everything you'll need for one-stop shopping for a glam evening out or a stylish, retro-inspired daytime outfit. Retro-chic polka dot halter dresses, boleros, rompers, kimonos, Irregular Choice heels (when you know, you know) — it's all there.
Dollz & Dames is a treasure trove of accessories too, from funky-glam clutches to bold jewelry to embellished sunglasses. Don't stop there though, especially if you're shopping for a gift. There are fragrances plus bath products, candles — the list goes on.
934 Royal Street
Fifi Mahony's has been wigging Mardi Gras krewes, the burlesque community, performance artists, fashion shoots and shows, and us mortals who just need a fresh wig for Mardi Gras Day, since 1997. A second location, with a beauty parlor, opened in Bywater (3212 Dauphine Street) recently.
A true New Orleans original, Fifi's will make a glam queen out of you in one afternoon with its vast collection of makeup, glitzy accessories, sunglasses, and, of course, wigs. Oh, the wigs. Do you wanna be a "Marylin" or "Antoinette"? Done, and done. Any style, length, or color you have in mind, Fifi's will have it. Custom wigs run for around $200, but you can snag a wig for as low as $40, too. Beware, come Halloween or Mardi Gras, the line is out of the door, so prep accordingly.
609 Chartres Street
Hemline is an elegant boutique with two locations in New Orleans. Their flagship store is located in the French Quarter and sells contemporary designers like Nanette Lepore, Tracy Reese, Amanda Uprichard, and Dolce Vita, among many others. Brigette Holthausen moved to New Orleans from Brazil at age 16 and started the business selling backpacks, sandals, and jewelry at the French Market, opening her shop on Chartres several years later.
323 Chartres Street
A quirky boutique with women's fashions in a wide size range, whimsical accessories, and unique gifts. It's a gem of a place if you have your eye on a swing dress or a unique accessory to go with it.
Trashy Diva
Trashy Diva started in 1996 as a traditional vintage clothing store and has expanded into five shops across New Orleans carrying vintage-inspired clothing and lingerie with contemporary touches. There are two locations on Royal Street: a lingerie shop near the cathedral and a clothing boutique two blocks up.
Trashy Diva's lingerie shop offers custom-fitted corsets and boudoir glam, essential to the city's burlesque community, as well as myriad other lacy undergarments. Many styles in the clothing boutique pay homage to the 1940s and 50s; bold Asian-inspired prints and elegant florals decorate day dresses while evening options include velvet, bias-cut gowns like something Audrey Hepburn might wear to Tiffany's.
518 Chartres Street
UAL focuses on deeply discounted designer fashion. The inventory changes almost daily and the wide variety of merchandise in the store's single room makes digging for the perfect look a lot of fun. Christian Louboutin heels, Kara Ross handbags, and Chloe blouses will fill the store one week, and next week that's gone and Alexander Wang dresses occupy the racks along with Balmain and Valentino. Some of the pieces are sample items or marked as defective, so a careful eye makes for the best shopping experience.
All of these shops are in the heart of the New Orleans French Quarter, short blocks from the Prince Conti Hotel. Guests can enjoy first-class accommodations as well as shopping that reflects the diversity of cultures and styles that make New Orleans unique.