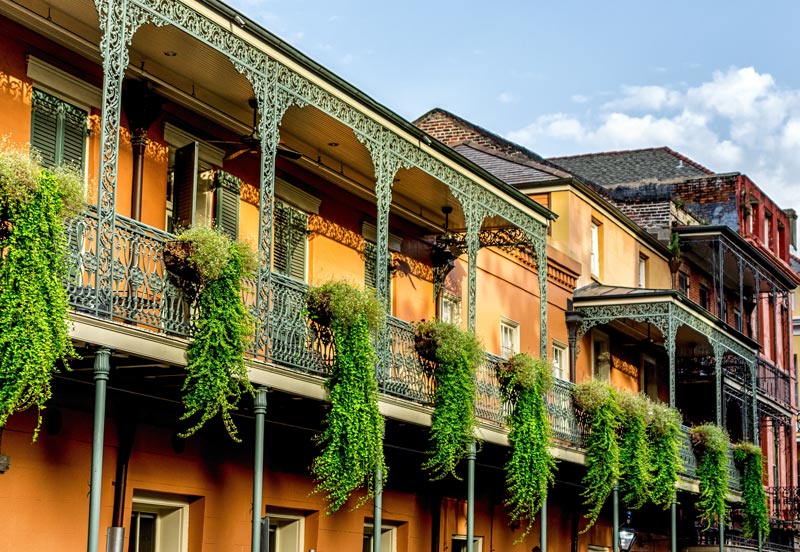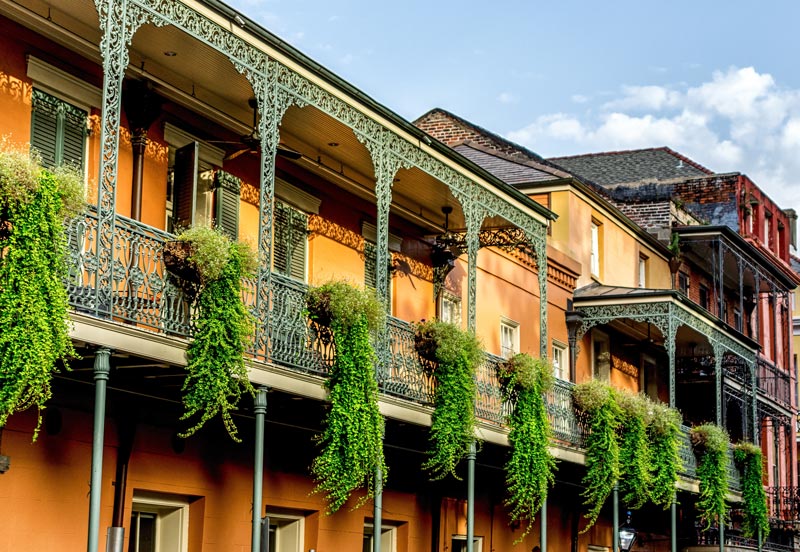 Prince Conti Hotel is ideally located for you to embark on a perfect French Quarter day.
Have Breakfast at Cafe Conti
When you're ready to rise and shine, pop downstairs to Cafe Conti for delightful sweet and savory crepes, and a range of breakfast specialties from light (house-made Muesli) to hearty (eggs Benedict of the day).
Catch a Passing Parade at Jackson Square
Jackson Square is the bustling epicenter of the Quarter. Local artists and colorfully-clad fortune-tellers ply their trades in front of St. Louis Cathedral, while street entertainers perform all manner of amazing feats on the steps leading up to the banks of the Mississippi River.
Walk Along the Mississippi River
Catch a cool breeze walking along the Mississippi, where vessels from around the globe cruise the waters of one of the world's busiest ports, and calliopes on local paddlewheelers provide a colorful soundtrack.
Grab a Muffuletta for Lunch at Central Grocery
Founded in 1906 by Silician immigrant Salvatore Lupo, Central Grocery originated the world-famous muffuletta. Made with homemade bread layered with Italian meats and cheeses topped with the store's famous olive salad, it rivals po-boys as the city's most iconic sandwich.
Take a Stroll Down Royal Street
Lined with art galleries, charming gift shops and antique stores filled with treasures like 19th-century absinthe glasses, there's plenty to elicit oohs and aahs on Royal Street, where you'll also catch street musicians and pass some splendid private homes.
Bar-Hop During Happy Hour
Enjoy a grande-dame ambiance while sipping house cocktails and wine at Hermes Bar at Antoine's (713 St. Louis St., 4-7 p.m. weekdays), then hop over to Kingfish (337 Chartres St., 2-5 p.m. weekdays) for $7 cocktails and $9 small plates. Top that off with $5 specialty cocktails at Prince Conti's own The Bombay Club (4-7 p.m. Wed.-Sun.).
Treat Yourself to a Gourmet Dinner
There's no shortage of top-tier dinner spots in the Quarter. Some of our favorites include Bayona (430 Bienville St.), known for its creative spin on Creole and Cajun classics; and Irene's (529 Bienville St.), which turns traditional Sicilian dishes into haute cuisine.
Sit Back and Enjoy Live Jazz
Head back to The Bombay Club for jazz by New Orleans artists that goes down as smoothly as the house martinis.