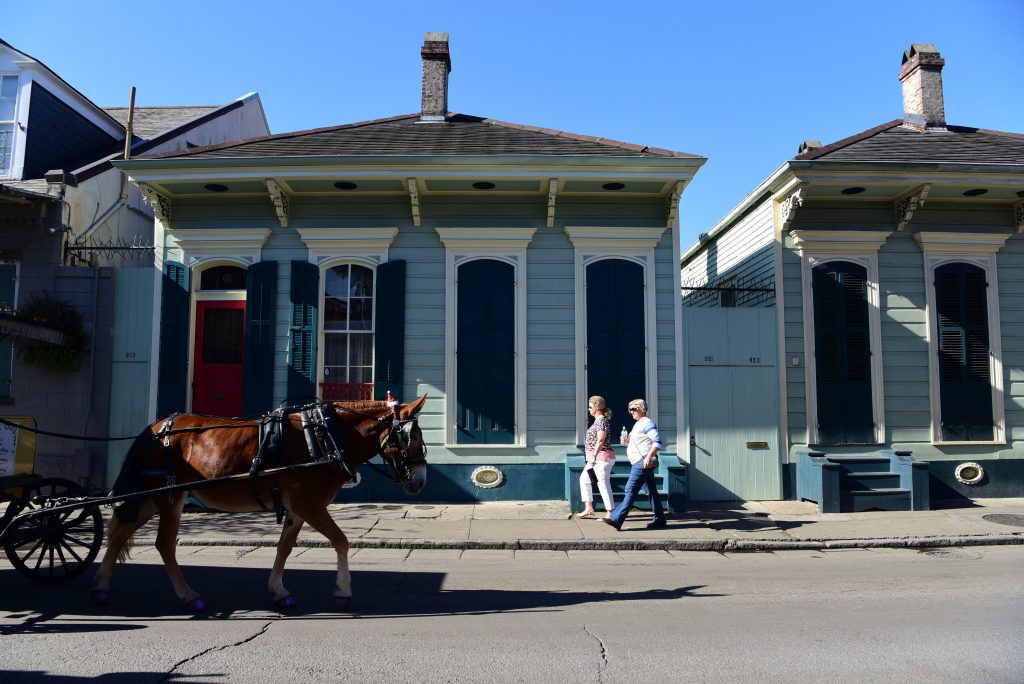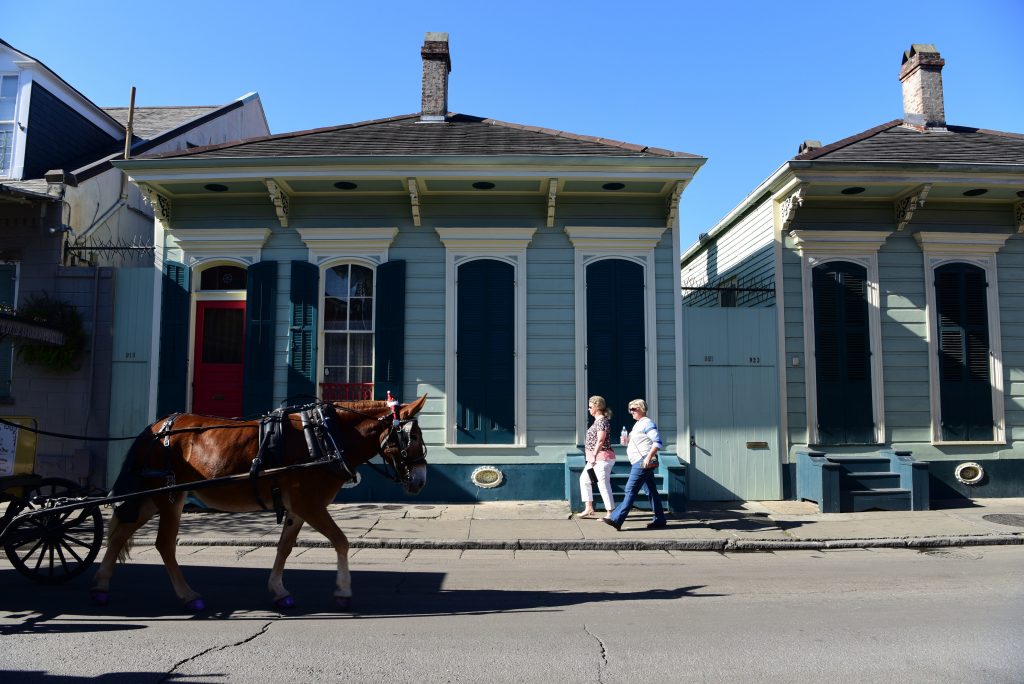 Known for its iconic high-end restaurants like Galatoire's, and swank bars like French 75, the French Quarter is a magnet for high rollers, but you can also drink deep of its delights on a limited budget, like many of the locals do, while enjoying a wealth of free attractions.
Rise and Shine at Cafe du Monde (800 Decatur St.)
If you hit Cafe du Monde in the morning, you'll probably have to cool your heels in line. But it's definitely worth the wait for a breakfast treat New Orleanians have been savoring since 1862. Order a plate of three fresh-from-the-fryer beignets dusted with powdered sugar, and dip them into a steaming hot cup of cafe au lait. Heaven! Though light as air, beignets are surprisingly filling, and taste even better when you're listening to live jazz while breezes waft off the nearby Mississippi. Cost: about $6, plus an extra buck or two for a tip.
Walk Along the Mississippi River, and Take a Trip on the Algiers Ferry
Strolling the banks of the Mississippi is both delightful and free. And you don't have to spring for a pricey ticket on a paddlewheel boat to cruise the river. It costs just $2 to board the Algiers ferry to the West Bank, which leaves from the foot of Canal Street, near the Aquarium of the Americas. You'll enjoy sweeping views of the city's skyline, and the towering spires of St. Louis Cathedral. About five minutes later, you'll dock at Algiers Point, a historic neighborhood with expansive views of the Crescent City along the Mississippi River levee. Reboard the ferry for another $2 when you're ready to leave, and get back off where you started. Cost: $4 round trip.
Grab a Muffuletta at Central Grocery (923 Decatur St.)
Central Grocery invented the muffuletta. It rivals the po-boy as the city's most iconic sandwich. Layered with sliced Italian deli meats, rich provolone cheese, and hot and spicy olive salad, muffulettas are served on locally baked seeded buns and are big enough to feed two people. Pro tip: Opt for the half-sandwich (they're pretty big) and bring it to the Moonwalk for a riverside picnic that will more than fill you up for the day. Cost: $15.25 for a half.
Window Shop on Royal Street
M.S. Rau Antiques (630 Royal St.) houses a trove of priceless antiques worth a fortune, but it doesn't cost a dime to drool over exquisite Victorian music boxes, dazzling diamond-encrusted brooches and elaborate player pianos. And Rau is just one of the many shops brimming with oddities and treasures on Royal Street. Cap off an afternoon of aspirational window shopping by trying on one of the phantasmagorical wigs at Fifi Mahony's (934 Royal St.) Cost: Free.
Eat, Drink and Be Merry at Happy Hour
New Orleans is a drinking town and boasts some of the best happy hours in the country. Lagniappe: many offer budget-priced small bites that can easily serve as an early dinner.
The Bombay Club (830 Conti St.)
If you're staying at Prince Conti, one of the best and most leisurely happy hours in the Quarter is right downstairs at The Bombay Club, where it runs from 4 to 7 p.m. Wednesday through Sunday. Wash down shareables and bites like Natchitoches meat pies and Ploughman's Board with a couple of beers ($3), glasses of wine ($4), or specialty cocktails ($5). Cost: Depends on how heartily you imbibe, but about $20 plus tip for two drinks and two apps buys a nice buzz and something in your belly to offset it.
Kingfish (337 Chartres St.)
Live like a king Monday through Friday from 2 to 5 p.m., when you can drink draft beer ($4), wine ($6), or specialty cocktails ($7) while noshing on $9 small plates like duck and andouille gumbo and Louisiana crawfish bread. Cost: Like with The Bombay Club, depends on what you eat and drink.